It's an evening in July when I scratch it down, right there on a page of my journal.
#3000.
It's the three-thousandth entry in the gratitude journal, and when I write it out, I only know this: That number seems too big and too small, all at the same time.
It was the last month of 2010 when I began a journey I didn't understand. A journey I didn't even know I needed to take. I just knew that I wanted things to be different.
That
I
wanted to be different.
And maybe I had no idea how to change and maybe I didn't even know if I
could
change.
But it only took 7 months for me to figure out what I really did need to know: There's only one thing that can ever change us at all and it's Love.
Being
loved, it can change everything.
But
believing
we are loved? This is what really does change everything.
The first thousand entries in the gratitude journal, they open my soul to what I spent a whole life desperately seeking. For the first time in all my broken years, I know it now without any more doubt at all--God loves me with an everlasting love.
And when I write this down on paper--
#1000 - I am loved
--I'm broken and made whole, all at the same time.
I keep on counting because I never want to go back to the days before I knew Love. But the second thousand is harder than the first, and it's 17 months before I figure out what living loved might mean. Because life comes hard and fast and I break deep and often, and
I start to wonder if God's walked right out on me
at long last. But then
He shows up in a deserted parking garage
on a Friday night and He spares the life of a father and I catch a glimpse of what it is to be loved.
And it's nothing like I thought it'd be and somehow everything I need it to be, all at the same time.
Gift number 2000 might be the strangest one of all, but I write it down anyway:
#2000 - Figuring it out at last that it's the holes in a thing--a life, a soul--that let the light shine through.
Yes, living loved means all the aching, broken places lead us straight to God. And all the cracks in a soul bleed only Him into a world in desperate need.
This is what the second thousand entries in the gratitude journal teach me--and also this: If I want to live, really live--I've got to keep counting for always.
I want to live. So I keep on counting.
The third thousand gifts, I count them in some of the hardest months of a life. Those 6 months, they're the ones in which
I fall ill
again and again. The ones in which
I can barely breathe
through all the upheaval. The ones in which
I nearly drown
in a darkness I name Hopeless. But I count on, and I don't even know how, but I
live
.
I'm sure of it now that the real living is only found in the counting--the counting on God. Because that's what the third thousand gifts teach me--that even in our darkest days,
God hasn't abandoned
and He's not going to. That we can still keep counting on God even when we're not sure if we can keep on breathing. That even in the pitch-black night, there is hope and there is life--because there is God.
I record gift number 3000 on a night in July:
#3000 - Not feeling alone anymore, in my struggles, in this journey, in this whole mess of a life
. But now it's 6 months and 500 gifts later and I see it plain, how the end of one thousand is always just the beginning of the next. The next chapter of a life story. The next revealing of Grace and Glory and God.
And maybe there are still things I don't understand any more now than I did at the beginning: How the goodness of God can be endless, how
Love
can be endless, how the gratitude journey can keep a heart beating right on through all the dying mess of a life.
But there's this one thing I've learned 3,502 times over:
You will seek Me and find Me when you seek Me with all your heart.


Jeremiah 29:13
When we look for God in the ordinary, mundane pieces of a life--we find Him.
When we look for God in our beautiful, hope-filled hours--we find Him.
When we look for God in our fiercest, darkest, most terrifying nights--we find Him.
When we look for God--we find Him.
And when we find God, we're the ones who are really found.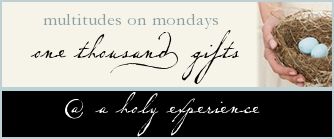 I'm happily, gratefully, and wholeheartedly taking The Joy Dare again for 2014--the dare to find God a thousand more times before year's end. Join me?