We're sitting on a sunny bench by the playground when
she
tells me a story and I hear something I'm not expecting. It's not in the words she says, but somehow it's plain as day, this piece of the mystery I've been wrestling with for weeks.
When we shield others from the full weight of who we are, we rob them of the chance to love us
.
This fear that runs in my veins, I've been mulling it over since
that day across the mountains
when I realized where this fear would take me. And I see it now, how I've spent a whole life believing that it's my job to protect the world from all of me. From my pain and all the broken places. From my thoughts and my hopes and all the million things that make me who I am.
Because
being a burden
to people means they'll get tired of carrying me. And when they do, they'll leave me on the side of the road for someone else to find. But I learned it young that maybe I wouldn't have to be left if I just carried all this weight alone.
And I've done a pretty good job of it, these decades of a life. But people, they leave anyway, and I just keep trying to protect them from the full measure of who I am because I keep hoping it'll be enough this time to put an end to all the leaving.
But there are all these things I didn't know before. First came the revelation that this fear can only take me to
a place I never want to go
. It's the place my great-grandfather ended up and it's the place I've promised I won't go.
And now comes this, a piece of Truth found on a park bench beside a sister who's walked a bit of life with me:
When we shield others from the full weight of who we are, we rob them of the chance to love us.
We rob them.
I rob them.
And it isn't just them I've robbed. No, it's Him, too. Because I've been busy shielding a whole world from me, and all the while, it turns out I've just been shielding myself from being loved.
I've been robbing myself of love.
The way down deep kind of love that reaches every part of who I am--that's the love I've been shutting out by protecting the world from the weight of me. It's the kind of love that pours down a thousand times over from the One Who bore me out of nothing, the One Who carved my name into His Hands.
And all these years of a life, I've been robbing Him of the chance to love me.
I'm stuck on #999, afraid to even pen the next gift for fear that it might be the last. But suddenly there's no holding me back and I know exactly what I need to write.
1000. I am loved.
And this is why I started counting 216 days ago, and it's taken me every last one of those days and every last one of those gifts to find what I've been searching for. But it doesn't end here--not me or Him or all this love I'm in. Not the counting of His graces, not the throwing off of this fear I've carried too long.
I've already made the promise
, but this isn't the kind of thing you say just once and walk away. No, it's the kind of thing you keep on saying until the words become the living, until you become the woman you were born to be.
So I raise my hands again and I promise Him I'll live out all the days He gives and I'll do everything I can to lay down this fear of being a burden. Because I refuse to go where this fear wants to take me and I've finally seen this evil for what it really is. There's no protection here for anyone at all, only the theft of our chance to be loved.
And here's the place I make my stand. It's taken me long enough to figure it out, but after counting a thousand ways He loves, this I know without any doubt at all:
I am loved by the God Who breathed me into existence.
A thousand times over,
I am loved
.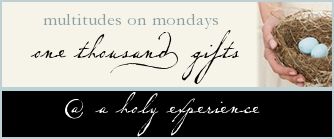 Click here for all 1000 gifts I've counted so far...