It's a Friday evening in October when the life drains right out of my father.
I'm across town, standing in line with friends, and my dad, he's crouched in the corner of a parking garage, trying to stop the dying.
I'm buying boots and trying on dresses and he's crawling across the concrete floor in search of a car.
I'm living and he's dying and I want to know how all the ordinary life keeps right on going when all the while, someone you love is being ripped straight out of the world.
Yes. My dad's alone and he's about to die.
But he lives.
There's only one reason my dad makes it to safety, finds a way to live. And that reason has a name. Because the Great I Am, He never leaves my dad and He chooses to deliver. And His mercy, it pours out on us all.
It's a few hours later when I hear the news that I've nearly lost a father on this ordinary day. I'm blindsided and there's this ache in my chest and I can hardly stand to breathe. Because sometimes the weight of Mercy, it's more than any of us can bear.
To be spared when we don't even know our need for it? Yes. This is Grace and God and a mercy like no other.
I write these words in the gratitude journal that night:
#1710. My dad didn't die today.
And when I realize the significance of these five words, I'm laid low. Because this one thing I've just given thanks for? It's been true every day of my life--and every day of my dad's life before I was even born. But it's gift number 1710 because I'm this broken woman still trying to understand what life's really all about.
Maybe
I read it before
, how the question shouldn't be
"why all this suffering and loss?"
but rather
"why all this Good and Grace and God?"
But how could I have really known what it meant until now? Until I'm standing here in the days after my dad nearly dies and there's no mistaking how every day is Gift. Every day is Grace.
Every day is God.
We haven't been promised tomorrow--but how many times has He given it anyway? We're not entitled to even a single day with the people we love--yet how many countless days has He so generously bestowed regardless?
For weeks on end, I've been listening to
just one song
on repeat. Because I'm this woman with a beauty-hungry soul, always listening for Truth hovering in a melody, and lately, I'm this woman with an aching heart and a great big hole in need of Him. And I remember that first time I heard this song and how I didn't really hear it at all until the last line had been sung and that one word still hung in the air while I reeled long.
And I haven't stopped listening to it since.
Because my body really is tired from trying to bring Him here. And my brow really is furrowed deep from trying to see things clear. And this whole year? The one
I named Home
? It really has been about just one thing: Turning my back to the blackest night
and letting go
, falling right into all the things I don't understand, all of Him I don't understand, and waiting for the mystery to rise up and meet me.
And, oh, the waiting's been hard and heavy and full of deep loss. And there've been all these days when I didn't know how I could hold on until He showed up.
But it's a Friday evening in October when God shows up where I didn't know I needed Him, in a deserted parking garage in the middle of downtown. And God stops the bleeding and the dying and He breathes air into lungs and moves muscles that haven't any strength and He gives me back my father when He doesn't have to.
And all this letting go and all this falling and all this waiting for God? It's not over yet. But how can I doubt for one second that He's still here, that He's working and I'm not forgotten and there's enough Grace to light up all these dark days?
The Death Angel's passed by and God's shielded us with His own hand, His own blood across the doorpost, and we've been spared.
We've been spared.
In the wake of this mercy, the gratitude journal lies silent. Because what really comes next after those five words,
my dad didn't die today
?
Maybe I'm still figuring that out. Maybe I'm a little bit afraid of the day when those five words are no longer true. And maybe I'm just breathing in and out, letting go of what I don't understand and holding onto Him and Hope, giving thanks again and again for this one gift that's come from His hand.
And that very last line of the song that's carried me for weeks?
I'll wait for the mystery to rise up and lead me Home
.
I'm still weary and wondering. I'm still letting go of what's not mine to keep and falling into the mysterious dark of God and Grace and Growth. And I'm still waiting, waiting, waiting.
But I know it now that God's rising up and I'm not crashing into anything but The Rock and He *will* meet me.
And He will lead me Home.
Yes.
The letting go, it's leading me Home.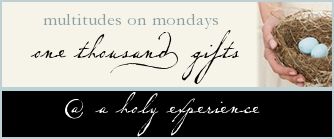 Today, only this--a thousand gifts in one: #1710. My dad didn't die today.
And if you'd like to hear the song that's been the soundtrack of my days these last weeks: