It's the middle of a church service, my fingers dancing over piano keys and my voice ringing out loud. Yes, it's right then when I'm struck by the words I'm singing, this well-worn song always taking me by surprise.
Maybe because I've know this song for a lifetime and maybe because I learned it decades before I ever knew Grace, before I ever understood what it meant to be a woman born into Grace.
Crazy isn't it, how we can sing what's entitled Amazing Grace and still be taken aback when we realize it's about Grace?
But tonight it's the third time through when I feel the tears stinging in the back of my eyes and I hear Him saying this one's for me.
Through many dangers, toils, and snares, I have already come. Twas Grace that brought me safe thus far and Grace will lead me Home.
I've already come through shame and grief and chronic illness and oh-so-much loss. I've already come through doubt and fear and regret and more mistakes than I can ever count up. Yes, I've already come through three decades of life that have hurt more than they haven't.
And it's Grace Who's brought me all this way, saved my life in a million ways, given me a new start every single day.
But the thing I really needed to hear?
It'll be Grace leading me Home.
I
named this year Home
and just when I'm certain that this year's named itself Loss, He spins me right around again and says there's more happening here than I can see or feel or know. That someway, somehow I really am coming Home to Him through all this grief and fear and a whole mess of struggle.
And I wonder now why I ever thought it'd be any different? Didn't I know that there's no easy path to making a Home in Christ, that mostly there's the ripping out and the tearing down and the feeling like God's walked clear out of this life?
Because who can make a new home when the old one's still standing tall, when
we're
still standing tall?
Yes. That's really it, isn't it? It's ourselves we've got to give up when we've decided that He's the only Home we want to be in. And, oh, the breaking down of who we are and who we've been and everything we thought we wanted? It feels like the whole world's crashed right down and there's no Grace in sight--no
God
in sight.
But I've already figured it out, that
we choose what we believe
, and that choice we make, it can send up straight into despair or it can lead us right into Him.
I'm choosing to believe that God's not gone and there's Grace to be found if I'll only look hard enough.
But maybe when I'm looking for Grace, I'm really the one who's found. Because Grace is the One taking me Home.
Yes. I'm going Home. And Grace is leading me right to Him.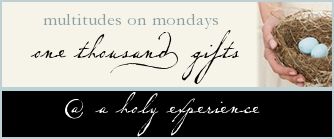 Capturing drops of grace with a camera phone and a journal....
1618. My desktop buddy, sleeping right in front of me while I work the hours away
1619. Amaryllis blooms in August
1620. Walking into a room and finding Annabelle in her happy pose
1621. Root beer float ice cream sandwiches!
1622. Summer haircut
1623. Chai and marshmallows in a strawberry-covered mug
1624. When the cats sleep side by side, give up their quarrels in favor of sunbathing
1625. That accidentally heart-shaped scone, one side all ragged like me
1626. Happy new curtains in bright green
1627. The mom who sews them
1628. Open windows all summer long
1629. Buddy Cat making his home in one of them
1630. That one bright spot in the sky and how it looks like a heart to me
1631. The way I keep seeing hearts because I'm looking for Him
1632. Breakfast food for lunch--fried eggs and potatoes!
1633. Wearing sandals for three straight months--best NW summer in years
1634. Those crisscrossing tan lines that make me laugh every time I look down
1635. Pile of inspiration from the Library shelves
1636. Musing over stitch patterns and dreaming up things to make
1637. Week of "staycation"--housemates out of town and all this peace and quiet to enjoy
1638. Celebrating the occasion with a piece of piece every. single. night.
1639. The turning of the calendar page, new month full of fresh starts
1640. Postcard coming unexpectedly from across the world
1641. Friend who thinks of me even though we've never met, wants me to see all the beauty
1642. The way it feels like God's dropped an "I love you" in the mail
1643. How the long hours turn into 5 feet of blue lace
1644. The excitement over nearing the end of a complicated project
1645. Imaging the joy in a friend's face when she finally holds this gift right up next to her cheek
1646. First pumpkin spice steamer of the season
1647. And that piece of berry coffeecake that brings a little sweetness to a hard day
1648. The best of friends sitting by my side while we sip and stitch and hold this life close
1649. The last piece of blackberry dessert
1650. Childhood memories of eating this very thing every summer
1651. Crochet baby blanket being given as a gift at long last
1652. Baby Cora coming into the world safe and healthy, only 11 days late
1653. Listening to
this song
on repeat, because when it feels like God's missing in action, sometimes you just have to sing the truth loud and drown everything else out