It's been a quiet week.
A quietly hard week.
The kind of week that often seems to follow
those weeks so laden with joy
that I can hardly write down the gifts fast enough.
Thursday had come before I'd really opened
the gratitude journal
, taken note of the moments, opened my eyes to see the glimpses of God in ordinary days. I sat down at my art table that afternoon, held the journal in my hands, and whispered,
I haven't written anything in my book yet--my Book of Days
.
I'd never called it that before, Book of Days. And I don't know why I said it then. But just as soon as I did, these words flitted across my mind:
For you created my inmost being; you knit me together in my mother's womb. I praise you because I am fearfully and wonderfully made; your works are wonderful, I know that full well. My frame was not hidden from you when I was made in the secret place. When I was woven together in the depths of the earth, your eyes saw my unformed body. All the days ordained for me were written in your book before one of them came to be. (Psalm 139:14-16)
Yes, all the days ordained for me have been written in God's book. His Book of Days.
And I wondered then, as now, whether His Book of Days is anything like mine. A listing of all the gifts He has given, and will give yet, every day of my life? A record of all His Goodness cascading down through the moments of this one girl's earthly course? Not so that
He
can remember, but so that I can see it someday, so that I can give thanks for the things I've missed along the way, so that I can trace His Love even in the blackest nights and the most ordinary days.
Because I know I've already missed days, years even, of the Gifts, the Goodness, the Love. Eyes blinded by darkness, fear, exhaustion, soul-wounds. Decades spent living without
fully living
. Too much time lost to the doubting of His Love, the doubting of
Him
.
And still now, even after the
awakening of eucharisteo
, some days I shut my eyes or don't turn them to where He is and I struggle to really
see
. My Book of Days is incomplete, full of holes and missing pieces. Missing moments of God.
My heart aches for all the missed sightings of the One Who is always here. And I want to pry open my soul-eyes and fix them there so that I'll never
not
see Him again. I hope and I pray and I
beg
for God to keep a Book of Days for me with all the pieces there together, woven into the beauty of His story.
Because there's no question that I'm going to flail about in this life, fall on my face countless times,
fail to see Him here
.
But I'll keep trying, keep opening my little Book of Days, keep scratching down the bits and pieces of God I find. Even in ordinary days. Even in pitch-dark nights. And I'll keep at it for all the days I have remaining in
His
Book of Days.
And all the way along, I'll trust that He's keeping a record of His own, of everything I've missed, eagerly waiting for the day when He'll turn the pages for me to see and He'll recount every drop of His Love and I'll just lay low in humble gratitude for all the gifts, all of the goodness,
all of Him
.
The kind of gratitude that can't really be spoken, only
lived
.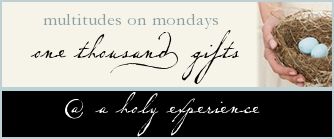 634. Bags unpacked, everything back in place
635. Three loads of laundry washed and put away
636. Day to recover, prepare for life after vacation
637. Hail storm in the morning, blue skies in the afternoon
638. Rows of mistakes undone, progress being re-made
639. Annabelle Cat running wild after old toy comes out of hiding
640. The
Hope Bird
perched on my desk while I work
641. The
Joy Bird
perched on my art table while I create
642. Cooking dinner with Dad
643. Savory bread pudding with feta, mushrooms, and roasted peppers
644.
Friend who sees God in the eggs
645. Facebook banter with my brother
646. Mistakes pointed out, keeping me humble in my work
647. Organizing the cupboards, clearing out the excess
648. Afternoon nap when the head needs clearing and the heart needs rest
649. Buddy Cat snuggled up beside me, happy for the company, happy to share the bed
650. Cooking done for the week, leftovers piled up
651. Lone bird on the wire, backed by ominous clouds
652. Lady bug traversing the windowpane
653. Squinting against the sunlight to watch the lady bug's journey
654. Buddy Cat bird watching beside me while I work
655. Finding inspiration for poetry
656. Writing the
first poem
in exactly three months
657. Words finally coming to finish the last stanza
658. Blue skies at sunrise, half-moon still hanging high
659. Day without clouds--always, always a gift!
660. Birthday lunch with friends
661. Easter Eve dinner with family
662. Easter baskets for grown children
663. Staying in pajamas until 10 am
664. Meal planning going easily--for once!
665. God Who conquers death, rises from the grave even when the clouds don't break
666. Redemption flowing down, reaching even me
667. Messiah Who gave thanks before He went to the cross, opened the way for abundant life
668. Eucharisteo. Always eucharisteo
669. Three peony plants budded with promise in my own front yard
670. Dogwood tree just coming into bloom, glimpsed on the drive to church
671. Driving to the Easter celebration while "
There Will Be A Day
" plays on the stereo
672. That there
will
be a day with no more pain, no more fears, no more burdens
673. And
that
day is made possible because of
this
day--Resurrection Sunday
674. Finally feeling the celebration, the Glory of Easter after a long week of quiet heaviness
675. God Who knows suffering--His and ours
676. That our Messiah lived to die so that we might live to
live
677. Hammer shattering glass, shards of truth piercing my soul
678. The fragrance of Christ
in us
, our brokenness releasing Him to the world
679. My Book of Days, scribbling down pieces of God
680.
His
Book of Days, capturing every bit of me and Him and
us
681. The Love that runs through all my days, in His book and mine
682. The gratitude that can't be spoken, only
lived