Our vacation was nearly over by the time we ventured out of the lake house together, made the short drive into a tiny town called Wamic. At our destination, we opened the door and stepped onto the creaking floors of an old house, now home to a coffee and consignment shop.
We ordered our drinks and wandered the house slowly from room to room, upstairs and down. Treasures lined the walls wherever we looked, and I turned each corner with excitement, wondering what might be waiting for us in the next room.
And then I saw them, perched on a shelf. Hope and Joy calling my name.
I looked long and pondered whether I had a place for these birds to come home to. But the longer I pondered, the louder Hope and Joy whispered for me to take them home, take them to heart,
live them out
.
As I placed them on the counter, my grandma exclaimed over them and my mom told her that Hope and Joy were some of my favorite words. But I turned and said, "Not just words, Mama."
No, not just words. Hope and Joy. They are life and beauty and glory and
God
.
And they are now perched on my desk, perched on my life, perched way down deep in the soul-home of the God who breathed them into me.
Hope and Joy have made a home in my heart. The gratitude overflows.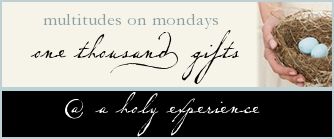 553. Vacation finally here, journey finally beginning
554. Sun streaming in the car window, landing on yarn blanket
555. Rainbow's full arc spread out beside the freeway in the middle of a hailstorm
556. Low wisps of cloud, hovering over hilltops
557. Wispy afternoon moon blending into cloud puffs
558. Rainbows in the road spray, sun glinting after downpour
559. Crocheting hands silhouetted against the seat back
560. Steepled red brick church standing in the evening light
561. Green hills at sunset
562. Dairy Queen stop before the last stretch of the journey
563. Empty road, empty sky, sun setting beside us
564. Desert lands still green with spring
565. Six cows grazing together amidst endless open space
566. Sitting in the backseat, eyes peeled for Glory
567. Sun orb slipping behind horizon's cloud bank...
568. ...then clouds opening to reveal blinding beauty once more
569. Flat hilltops dotted with tree silhouettes at dusk
570. No pressing concerns except to watch the sun go to be while we drive
571. Grandma waiting for us at road's end
572. Hello hugs
573. Car unloaded, settled into my room
574. Discovering an electric blanket on a borrowed bed
575. Falling asleep warm and cozy...
576. ...and staying that way all night
577. Waking up to the sound of geese happily honking outside the window
578. Lying awake in bed with no reason to hurry and get up
579. Face buried in
Hope
, soft and warm
580. Searching for the Gratitude Journal in the dark of early morn, not wanting to forget His gifts
581. Sitting across the breakfast table from Grandma, listening to animal stories from country life
582. Patch of muscari blooms in the middle of the back lawn
583. Mom and Grandma side by side, bent over a puzzle
584. Crochet project finally finished, laid out for admiration
585. Mom recovering from migraine, rejoining the fun
586. Digging through Christmas fabric, making plans for stockings
587. Resting in the bedroom, listening to the women chat
588. Bowl of Grandma's chili for dinner
589. Pulling out a new bag of yarn, stitching the beginnings of more beauty
590. Plans made for tomorrow, another day of resting, creating, and being together
591. Waking up to the sound of geese honking
again
--this never happens at home!
592. Yarn laid out across the floor, four women deliberating over color order
593. Decisions made, blanket taking shape, beauty unveiled
594. Unpacking Grandma's teacups, listening to stories of the past
595. Hours in the rocking chair, drinking tea and crochetting
596. Grandma offering baking lessons, Mom learning how to make the pumpkin roll
597. Mom accidentally covered in powdered sugar
598. Mountain of mashed potatoes for dinner
599. Meatloaf with blueberries--so good!
600. Sharing the craft table, watching others' art take shape
601. Laughing over silly things late at night, feeling joy deep down
602. Plans for tomorrow that involve cheesecake, silk scarves, and Christmas ornaments
603. Waking up to sun on the water after a day of all rain
604. Lake smooth like glass and reflecting the trees
605. Pulling out the blanket project first thing, more circles of color being born
606. Listening to Mom and Grandma as they stretch out crocheted snowflakes, pin them in place
607. Cheesecake baking in the oven
608. Putting on shoes for the first time since arriving
609. Four of us finally read for a trip into town
610. Wandering through rooms full of treasures, excited to see what might be found
611. Sipping hot chai while doing the wandering
612. Hope and Joy sitting on the shelf, whispering for me to take them home, take them to heart,
live them out
.
613. All of us leaving Lexi's Place with treasures tucked under our arms
614. Back to the house and back into slippers
615. Puzzle coming together, last missing piece found on the floor
616. Last evening together, full of eating, crafting, and movie watching
617. Bags packed and ready to go, a few more hours to enjoy
618. Dozens of scarves piled on the dining table
619. Four of us gathered around, trying new ways to wear beauty
620. Laughter at the process and the failures
621. Discovering beauty, holding it in our hands
622. Making plans for "next time"
623. Goodbye hugs
624. Grandma standing in the doorway, waving and blowing kisses until we are out of sight
625. A dozen deer grazing in a neighbor's lawn as we pull onto the road
626. Sun shining bright as we head toward home
627. Cloud shadows laying across the blue-green river water
628. Talking about family history on the long drive home
629. Dairy Queen stop, ice cream for dinner
630. Space Needle finally coming into view, home soon to follow
631. Car unloaded, bags piled on the floor, knowing the unpacking can wait until the morning
632. The welcome feeling of being
home
633. Imaging what the real Homecoming will feel like