For coming out of the dark
and finding Love holding out a hand.
For sister-friends and brother-friends--
the ones who pray and hope and
send Fear packing its bags.
For the choice to believe
when all seems lost.
For the One Who isn't lost
even when we are.
For the last week of Summer
and the way it lingers warm.
For watering the garden at sunset
and finding one cluster of jasmine still in bloom.
For Fall coming in with a chilling grey
and those spiced cookies baking up in the oven.
For Psalm 27
and the way it holds me up
when the burdens push me down.
Yes.
For being held up
but mostly for the One Who holds.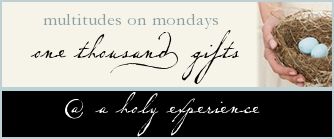 and a few snapshots of joy from the week...