I've known for a week and half now what I would write about today. But it was just yesterday that I sat down to consider what I needed to say.
In the meantime, all this week the
Gratitude Journal
has lain quiet and mostly closed, only gathering a few handfuls of grace here and there. On the heels of the previous week,
so full of Beauty and Glory and God
, this one has felt silent, heavy.
Maybe because I've known all these days what He's been asking of me. And even though I knew, in the end, I'd say
yes
to Him--I wasn't ready to say it yet. I was still holding back, still living the
no
.
I suppose He's been asking since
this grace counting began
, but I didn't hear Him clearly until I read
this post
by a fellow thanks-giver. Oh, I've understood for a while now that this Gift List isn't just about counting all the things that look and feel and seem to be
good
. It's also, and maybe more importantly, about finding God and Grace and Good in even those things that look and feel and seem to be
bad
. Because really, who am I to judge and say that one moment is full of God and another not? Isn't He always here with me? Isn't He always at work in
all things
to bring about Good, to bring about His Will?
I nearly walked away from the Gratitude Life when I first read it in
Ann Voskamp's book
that "all is grace," that the ugly can be beautiful, that giving thanks for the hard and the painful is what allows Grace to transfigure all of it--all of us--into something beautiful. But in that moment, He nudged me on, pressed me forward, gave me eyes to see Grace in places I never wanted to find it. In death and loss and grief and pain, I saw His fingerprints and felt the Grace trickling down and through and over it all.
And it's true.
Finding Grace in the ugliest, most soul-crushing moments of a life somehow makes them beautiful and full of God. But without even realizing it, there was one thing I held back, one thing in which I didn't even try to find Grace: The illness that has haunted my body for decades, devoured my strength, devoured my independence.
It shouldn't be harder to find Grace and God in chronic illness than it is to find them in the loss of relationship, the crumbling of faith, the death of one I loved. It shouldn't be.
But it is.
Maybe because this illness is never past tense. It isn't a matter of looking back to trace the Hand of God. It's a matter of staring illness in the face here and now, every day, every hour, and somehow seeing straight through it to Grace and God Himself.
But that isn't even the hardest part.
The hardest part, really, is
wanting
to see Grace and God Himself in the illness that has torn me apart. Because looking for the Good, giving thanks for the Grace,
finding God in my illness
--it feels as though I am telling God it's okay not to heal me.
And I want so desperately to be well that I can't even bring myself to utter those words.
Still, I hear Him asking for the thing I don't want to give. And I know the only way to the full life is in the grateful acceptance of everything He gives. Even the hard. Even the ugly. Even the one thing I don't want to see as Grace.
So today I am choosing to lift up my eyes, gather what little strength I have, and whisper this out loud:
Show me Your Grace
.
And with open hands outstretched, I begin to count the gifts...
505. Weakness that teaches me to rely on Your strength
506. Emptiness that leaves me open to Your fullness
507. The constancy of illness reminding me of the constancy of Your love
508. Failed attempts at healing that bring perseverance
509. Daily battle with illness that develops endurance
510. Suffering that breeds compassion for the sick, the weak, the broken
511. Sweet, soul-bursting promise of
no more illness
for all eternity--a promise that wouldn't mean much if I didn't know the suffering
512. Body broken but still able to live
513. Legs that can walk--not far, not fast, and not without pain, but
I can walk
514. Ears that can hear music, the wind, the ocean
515. Eyes that can see beauty, light, God everywhere
516. Heart that can feel pain but also joy, love, God in me
517. Soul-eyes opened to see Grace in dark places
518.
God who gives illness as a gift, uses it to make me into something beautiful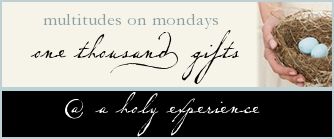 More gift counting for this week (#480 - #504) can be found on my One Thousand Gifts List