Sometimes we stumble on Joy unexpectedly, find it in places we never thought it would be.
But sometimes we find Joy exactly where we knew it would be, in the places where it always is.
Beautiful skies and a free afternoon came together this week to draw me out of my house, out of my neighborhood and down to
a place where Joy lives
. I knew I'd find it there, amongst the trees and blooms and life-song of an arboretum. And I knew it would swell my heart, warm my face with all it's beauty.
Because Joy is always in this place.
But this time was different.
After all the journeys I've made through this forest of beauty, I didn't think this Joy could get any deeper, richer, more alive. But I was wrong.
Because this time I tucked the Gratitude Journal into the bag, slid it in beside the camera.
And I didn't just see beauty in all the moments.
I saw God
. I felt Him near, heard Him loud, and saw Him everywhere I looked. And my soul nearly burst with the glory of it all--the Glory of Him.
Will you come with me and see?
422. Pink trumpets dancing in the sunlight
423. Pieris blooms shy under leaves
424. Flower so tiny I kneel down in dirt to see all its beauty
425. One bud, hope in miniature
426. Hawthorn leaves unfurling in Spring
427. Lone daffodil in flight
428. Hellebore still in bloom after Winter's end
429. Pink azalea buds waiting to take the stage
430. Azalea petals all aglitter in sun
431. Face pressed close into blooms, inner beauty revealed
432. Perfect camellia bloom, untouched by Spring rains
433.
Corylopsis spicata
branches laid out horizontal and dripping with yellow beauty
434. Purple-tipped petals bursting forth from soil
435. Hellebore open wide and sprinkled blood-red
436. Snowdrop dancing in afternoon breeze
437. Petal edges kissed by sunlight
438. Tiny magenta blooms I can't pass by without stooping to marvel
439. Bare branches full of color, living up to the naming of 'Midwinter Fire'
440. Winter honeysuckle blooms still hanging down while leaves grow green
441. Star magnolia blooms coming out from cocoons
442. Blossom just out of reach, framed against a blue Spring sky
443. Forsythia blooms lingering at the edge of a Winter garden
444. Tiny azalea flowers back lit by afternoon sun
445. Maple tree in bloom, clusters of stars overhead
446. Cherry blossoms waiting to be born...
447. ...and being born!
448. Red buds on little maple, not yet ready to open
449. Cherry tree laden with moss, decades of stories to tell
450. Yellow mahonia buds waiting in shadows
451.
Oemleria cerasiformis
blooms cascading off branches
452. Fuzzy magnolia buds not yet ready to reveal glory
453. Pink petals peeking out, secrets being told
454. One magnolia tree in full bloom, adrift in a sky of blue
455. Tree's first bloom opening to the sun
456. Bud spire pointing to the Maker
457. Moss-covered tree trunk bathed in sunlight
458. New growth unfolding in a faint shaft of light
459. Three crocuses all in a row, mouths open wide to praise the Beautiful One Himself
460. Driving home with a camera full of beauty, a journal full of thanks, and
a heart full of God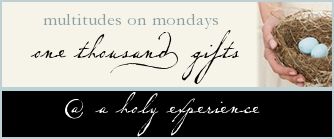 (More gift counting for this week can be found on my One Thousand Gifts list)