If you're still fighting off Winter's grip, still waiting and yearning for Spring to break forth? For God to break forth?
and you might just see God here...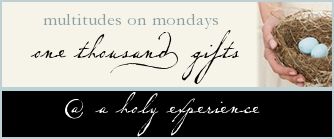 Giving thanks on a wet, grey day for all the Grace Blooms He pours out on a life no matter the season or the weather or the way the heart beats and bends and breaks...

1396. Taxes done at last!
1397. Strength to step out of the comfort zone, trust Him with my whole heart
1398. Courage to be myself when I'd much rather hide
1399. Long walk around a lake, sun shining and wind whispering
1400. All the light-starved people traipsing happy with kids and dogs in tow
1401. Memories of long-ago days spent on this very path
1402. Tiniest bouquet of flowers making their accidental way to my house
1403. The happy wonder when I find how the Grape Hyacinth's been named with truth
1404. Me bending low, breathing deep the fragrance of spring when the day gets hard
1405. God's answer loud and clear, even when the answer's not the one hoped for
1406. How the sun shines warm on a day when the heart needs mending
1407. Those choked out email lines to a friend who prays hard
1408. The arms of another friend holding tight when I come undone
1409. Afternoon in the sun, iced tea in hand
1410. Night of sleep after hardest day
1411. Long-awaited word from the friend who's been busy, us making plans to reconnect
1412. That happenstance glance at morning's sky, clouds burning magenta in just one place
1413. How the grey hides the sun all the rest of the day and I hold that one moment of beauty as sacred grace
1414. Direction from the doctor when the path's unclear
1415. All the friends praying faithful for the healing and the hope
1416. God who steadies when the long road stretches endless
1417. The long road. Yes. The hard eucharisteo. All is grace.