It hangs in the air and I feel it as soon as I walk through the door.
I might call this place a storage unit but really it's just a basement room in a building that doesn't belong to me. For two years, it's held the pieces of a life I used to live, and for every last one of those months, I've felt the deep sadness of loss whenever I've come here.
It's as though the sadness
lives
here, among haphazard piles of boxes and overturned furniture.
I don't regret the choices I've made to find healing for a body ravaged by illness and a soul broken by loss. These two years have held beauty and glory and God in all the places I didn't expect to find them. And God, He tore me out of a life I couldn't stand up under and then laid me down right here in a small corner of the world where I could rest and heal and
become
.
And oh, I'm so grateful for all of it.
But there's no denying that there's sadness here in the place where I've been storing the past, and I'm starting to wondering if all these boxes are really holding grief instead of my belongings. I'm remembering back to those days of pulling up roots and I see now how everything I owned was packed up under the heavy rains of loss. I might've wanted to believe that I was carrying the pieces of a life into a future full of hope and I might've sworn up and down that my life wasn't falling apart. But it was and it did and, oh, how the heart ripped open along the way.
And all that sorrow, maybe it's found a home here now, in this room with too many reminders of a life for which I still yearn.
I never stay long when I come here. I hurriedly search through unlabeled boxes, try to find what I need before sad air settles deep, unleashes what I don't want to feel. Because the truth is, I'm afraid to grieve this loss.
And for a woman who's grieved more losses than she can count, this fear leaves me unsettled. Of all the things that have been lost, broken, ripped straight out of my hands--why is this the one I can't seem to let go?
I run my hands over these pieces of my history and think I know why I'm afraid. Because what I've held onto all these months isn't the things packed in boxes. No, it's something much bigger than anything I own.
It's hope.
Hope for a return of strength and independence. Hope for a place to call home. Hope for the rebuilding of a life and the birthing of a family.
Sometimes letting go of yesterday's dreams feels like burying all of tomorrow's hopes.
But hasn't God been teaching me all these months that
there's Beauty and Glory and God even in the dying
? That
the burying of a life can be the beginning of our greatest healing
? That
the laying down of all we have and all we are is the very truest act of hope
?
Yes, God pours forth and floods the ground of a soul, but His Truth, it takes time to trickle down through the layers of a life. I might wish He'd just open me up and invade with Himself, but He's the One Who knit me together from the start and He knows I'd just be washed away by the strength of His Current. So He waits patiently for a soul to be saturated with the Truth that changes, heals, sets free. And one by one, the Truth wages war against fears and losses and regrets.
And now I'm standing here holding onto pieces of the past, knowing at long last what I've been doing all along. I've been shutting out the future He holds by clinging to the past I don't want to release.
Because these boxes, they don't just hold my possessions. They hold shattered hopes, dreams crushed hard into the ground. And they hold all the grief over what's been left behind in the wreckage of a life.
But I wrote these words only days ago and I meant every last one of them:
When it's God Who'll unearth us in the Spring, who wants to hold back from laying it all down?
When it's God Who
plans my future full of hope
, why keep holding onto a past I can't get back? Why trade away the life He has in store for the one I wish I still had? Why not bury yesterday's dreams and plant all of tomorrow's hopes in the One Who writes the only stories that matter?
It might take me months, a year even, to do what's needed. But I know it now that I've got to unpack every box I've carried, let out the sorrow and the loss. Then I'll put the pieces back together again, pack up hope with everything I own. Because I won't be holding onto the past anymore.
I'll be planting seeds for the future He holds in His Hand.
It's the laying down of all that we are and all the we have, burying it deep in the soil of the One Who Loves, and waiting in expectation for His Life to emerge within us--this is hope.
Yes, I'll lay it all down, bury it deep, and wait in expectation for the Only One Who bring life out of the dying, beauty out of the burying, and glory out of all the breaking.
Because this is hope
.
And I might've
named this year Faith
, but isn't faith
the certainty of hope
? I'm certain now that there's no past that can compare with what He has planned. And who can deny the joy of waiting for Him to emerge?
I can't and I won't and, oh, there's no telling what He's going to do. But it's going to be beautiful and glorious and oh-so-full of God. And I can hardly wait to tell His story.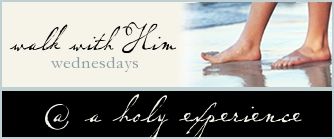 ...visit A Holy Experience today for more writings on hope and faith...