Two years ago, I wrote down words on a page. I even read them in front of a crowded room, shared pieces of a broken story.
But then I put them away, forgot they'd even been written. And I went on to live months and months of soul-crushing grief.
The other day found me sifting through old writings, looking for words worth saving. And I came across those I'd written two years ago when the breaking had just begun, the ones I'd written and forgotten.
Poetic lines still familiar, I could almost recite them from memory. But as I neared the end, my breath caught in my throat and I stopped short.
Could it be that I had known then, nearly two years ago, how this story would turn out? The answer I'd searched for all this time--had I held it in my hand from the day this journey began?
This is a mystery I've long wondered at. The way our words sometimes speak more to our future than our present. The way we need to look back after long months to understand what we really meant.
I didn't know then that
brokenness could be sacred
, that being broken was the only way to reveal His Glory. Oh, I knew it enough to write it. But I didn't know it enough to
live it
.
Because the breaking kept coming and I lost faith, lost everything. I stopped believing in redemption, couldn't see how there'd ever be Glory in all this mess.
And all the while, Truth lay quiet and forgotten, words written with my own hand. But really, they weren't my words at all.
They were His.
And He's carved them straight into me with all this heartache I've lived. Now I know
in the living
what I'd only known
in the writing
that day two years ago: God redeems brokenness. And in the breaking, the Glory of God pours forth.
Revelation

The silences closes in
And I wonder
If You are still listening
There is no whisper
Of Your presence
And I wonder
If You are even here

Do You love me less
When my doubts are too big
And my faith too small?
Do You ever grow tired
Of waiting for me to
Understand, believe
Move forward?

I feel farther from You
Than I've been before,
Weighed down by
The enormity
Of Who You are
And the mystery
Of Your workings

Things I once believed
No longer seem clear
But there's one thing
I don't question
One thing that
Breathes hope
Into this night

In all my life
You have never failed
To redeem my brokenness
And turn the ashes
Of suffering
Into the beauty
Of Your Glory

I stand here now
Full of doubt
And disappointment
But it is with
Great anticipation
That I await the revelation
Of Your Glory

~February 2009~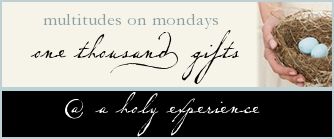 815. Homemade hamburgers and corn on the cob--taste of summer on a rainy spring day
816. One more blanket finished--only two weeks in the making!
817. Wind dancing in the birch tree leaves at sunset
818. Days of sun coming more often
819. House warmed by all the light
820. Making headway in hard projects
821. Kitty snore heard from across the room...
822. ...while another cat chases after a fly
823. This week feeling like summer when last week felt like winter
824. Fish-stick sandwich falling apart, laughter at the dinner table
825. Another day full of sun, tomorrow still to come
826. Sitting in the yard working on an art project
827. Having to move to the shade when it gets too warm
828. Photographs of color turning into a wall of beauty
829. Finally resting in my favorite chair after a long day full of life
830. Glimpse of the mountain at sunset
831. Cat splayed out on the floor because it's too warm for curling up
832. Birds singing happily as night approaches
833. Fourth day full of sun--can this really be happening? Not just a gift, an all-out miracle.
834. Sitting on the back deck to think, write
835. Cats keeping me company through the screen door
836. Scent of sun-baked lilacs drifting on the breeze
837. Sandal-clad feet soaking up the sun
838. Birds chattering in the sparsely-leafed tree across the fence
839. Hand-me-down dressers with empty drawers...
840. ...art supplies waiting to fill them up
841. Late-night snuggles with the cuddliest of cats
842. Lessons in the kitchen, even when it means failures
843. Art projects piled high, waiting for the festival
844.
New baby
born safely at home
845.
Song
I still call "mine" two years later
846. Dad and me trying to hang art on the wall, laughing and wondering if we'll get it right
847. Success at last--art staying in place
848. Laying out quilts and crochet blankets, preparing for the festival
849. Whole evening spent breathing in art, beauty, God
850. Fellow artists telling stories of creation
851. Everyone marveling at all the beauty
852. My own photography project stretching 10 feet long, surprising even me
853. Creative vision turning into reality...
854. ...and looking more amazing than I'd even dared to hope
855. God Who is in all the beauty
856. Coming home tired but so full of joy, hope,
life
857. Finding truth words tucked away in a journal
858. Knowing redemption, God, Glory
in the living
859. God Who redeems. Always Him.