I am only three chapters into
the book
when the familiar weariness seeps in. Decades of illness have ravaged my body, left my mind grasping about for comprehension and retention.
I remember now why I haven't finished many books since I entered my 20s, since the symptoms became my life. I can count those books on one hand and not use all my fingers.
Year by year, I have learned the ways of this strange and muddled brain, found the secrets to weaving information into dark recesses that don't want to be filled. But they aren't the easiest of ways.
I read each chapter twice, sometimes again, marking the pages with ink to remember what's important. Then hours writing notes by hand, jotting down the words I've highlighted and recording each thought, each question, each moment of revelation along the way.
In the end, I know the content of a chapter well enough for it to seep down deep to the places of soul change and perspective shift. Even when I can't recite it from my head, I can feel it in my being and know that I am moving forward, being remade.
But hours of labor take a toll on this body marked by weakness. I rarely make it halfway through a whole before closing the book and sliding it back into its place to collect dust.
I hit the wall a little sooner with
Ann's book
. It is deep and rich, layer upon layer of soul truth reaching me in the place where I am. I process all of it in my sleep, at my desk, in the grocery store. And I change and I open and I see how life can never be the same again.
And I want this. Oh how I want this.
But I grow weary in the journey to understand and remember. I grow weary and I start to give up.
So I return to Chapter Two and read this again:
"A nail is driven out by another nail; habit is overcome by habit." Erasmus said that, contemporary and admirer of Martin Luther.... I look down at the pen, this pen I keep wielding, one writing her way all the way to one thousand. This pen: this is nothing less than the driving of nails. Nails driving out my habit of discontent and driving in my habit of eucharisteo [thanksgiving]. I'm hammering in nails to pound out nails, ugly nails that Satan has pierced through the world, my heart. It starts to unfold, light in the dark, a door opening up, how all these years it's been utterly pointless to try to wrench out the spikes of discontent. Because the habit of discontentment can only be driven out by hammering in one iron sharper. The sleek pin of gratitude. (Ann Voskamp, One Thousand Gifts, pg 49-50)
And I wonder if I have made a habit of giving in to the weariness that haunts my days. I wonder if I can hammer out the nail of
giving up and giving in
by pounding in the new nail of
pressing on
--and maybe take my life back from the one who always whispers,
"You can't do this."
I don't know, but I think it's worth a try, and I pick up the hammer and start in on Chapter Four. I read it, learn it. It is beautiful and it changes me a little more. And I press on, feeling the old nail give way just a bit.
But Chapter Five comes and hits me hard in the place of loss. I stop marking up the pages, and for the first time, I shut the book and don't want to open it again. I shut the gratitude journal, too, and only two things find their way onto the list that day.
The second one comes late at night when I awake in the dark and wonder at the light outside my window. I climb out of bed to pull back the shade, and I see it there high in the sky. Big, beautiful moon lighting up the night. As I fumble in the dark to find the Book of Thanks, I know it then that something is different, that
I
am different. And I can't stop now just because Truth is hard, cuts deep, asks for everything I have.
It's too dark to see the page, the lines, the words--so I write it slow and crooked, hoping it can still be read when the daylight breaks:
#180 Moon so full and bright I can't look without squinting.
Come morning, I open
the book
again, pick up the pen, and hammer in a few more nails. Change is coming. It has already begun. And this time, I'm going to see it through.
No.
He
is going to see it through.
He hands me the Truth Nails, lets me make a choice. Today I pick up the hammer and choose to pound them in. And tomorrow I'll choose the same. I have to. The fullest life--the life I want, the life I was created for--
my life
depends on it.
All our lives depend on it
.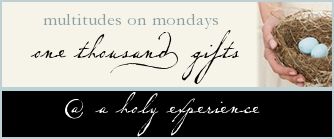 #153 Quiet house, lazy morning, day without work
#154 Rainwater streaming into gutters
#155 Drops of rain glistening on tiny branches, like diamonds adorning the trees
#156 Basket overflowing with colorful scarves, brimming with cheer
#157 Raindrops cold on my nose as I hurry into the store
#158 Grocery store aisles laden with flowers for all those Valentine givers
#159 Getting to smell jasmine in bloom in the middle of February
#160 White orchids with deep purple splotches
#161 Stopping in the middle of grocery shopping to write down gifts, give thanks
#162 Stream of hot hair, drying the hair and warming the cold of morning
#163 Annabelle Cate with wild eyes, chasing after things unseen
#164 Reading
Ann's words
, "Wherever you are, be all there," then opening a teabag to read, "Wherever you go, go with all your heart." Yes, You are in the details.
#165 Three amaryllis blooms open wide, four more just days away from showing face
#166 Last swish of tea from the cup--all spicy and peachy
#167 Lion-sized purrs from a pint-sized kitty
#168 Purple phone and purple pen sitting atop the purple Journal of Thanks
#169 Smell of oranges lingering on my fingertips
#170 Bright blue sky at day's beginning
#171 Nails of change being hammered into the framework of my life
#172 Morning sun glistening on willow tree buds
#173 Lone bird perched at the tippy top of the tree next door
#174 One small cloud puff adrift in a sea of blue
#175 Kitty ears glowing translucent in the sunlight
#176 Two cats taking baths in separate sun spots
#177 Smooth, silky feel of the scarf draping around my neck
#178 Sound of hail on a tin roof
#179 Down jacket making the cold morning cozy.
#180 Moon so full and bright I can't look without squinting
#181 Frosted rooftops glistening at daybreak
#182 Cat on hind legs, focused hard on birds outside the window
#183 Photos of a girl hanging all in a row, snapshots of
my sister who lives a world away
#184 Cold, crisp apple
#185 The way Truth trickles down through cracks in our souls, brings new life from the inside out
#186 The courage to face fears long enough to let words come out
#187 Snow-covered mountain coming out of hiding, looming large on the quite horizon
#188 Bald eagle circling slow in a cloudless morning sky
#189 Afternoon nap in a sun-baked bedroom
#190 Homemade scones baked to perfection
#191 Pink and white slippers on clearance after Valentine's Day
#192 Green plates, purple-flowered napkins for a tea party
#193 Mom who bakes scones, puts up with my angst,
loves me
#194 Tea menus
#195 Cat who rolls around on the floor just because
#196 Discovering forgotten photos that bring spring to life
#197 Sunlight lasting longer, days lingering on
#198 Conditioner to keep the curls from running my life
#199 Saying
I love you--please be good
to the cats when I leave the house
#200 Driving to church while the sun hangs low in a winter sky
#201 That He calls me friend, daughter, sister--that He calls me
His
#202 Pink socks peeking out from black shoes
#203 Noodles in a cup, dinner on the run--letting the ministry come first
#204 The impulse to open the gratitude journal when unkind words make my heart hurt
#205 That Jesus calls my singing a joyful noise, even when others only hear noise
#206 Stubborn cat who won't be pushed from a lap
#207 Stubborn God Who won't be pushed from a life.