I used to dread this day every year.
February 14th. Valentine's Day.
Actually, "dread" is perhaps too small a word for what I felt. I think "despise with a passion" might be a little more accurate.
It began, I think, way back in those days when we were expected to bring Valentine's cards for everyone in our class. But not everyone
brought
something for each person in the class. They only brought them for the kids in their circle, the popular ones, the ones they actually
liked
. And I was never one of them.
I was an outcast. An awkward, shy, too-big-for-her-age outcast with crazy hair and crooked teeth.
And nothing made that clearer to me than on days like this one, when the evidence of my acceptance was laid out plain for all to see.
Over the ensuing years, Valentine's Day became a kind of symbol to me, a yearly reminder that the love and acceptance I desperately longed for were always out of reach. Shame held me tight and told me over and over that I would
never be loved, never be accepted
. And I believed every word.
But
Shame was wrong
.
I remember the year my opinion of Valentine's Day began to change. I was 22 years old. I had dreaded the Fourteenth of February just as every year before. But when the day finally came, a sweet friend showed up on my doorstep unexpectedly, her arms laden with a bouquet of pink and white tulips. She knew of my disdain for this day, knew that it shouted loud about rejection and unworthiness, knew that I desperately needed to be
loved
on this day of hard reminders.
And something in me came alive that day.
Oh, I still had years of laboring before I would be free from the grip of Shame. Years of learning to love and be loved in ways I hadn't known before. Years of opening up the soul and letting healing--and Healer--work their way deep.
But something beautiful began that day.
The tangible, surprising, tulip-filled love of a friend spoke volumes to me about the Lover of My Soul, the One Who had always loved me with an unfailing love, the One Who would keep on loving me for all eternity.
Finally I started to see. This Day of Love was not an ugly reminder of
what I didn't have
. It was a celebration of
all that I did have
. I was loved. Maybe I hadn't known it for years and years of life. Maybe it didn't look the way I wanted it to or thought it should. Maybe it was different than what other people had. But it was love, all the same.
And in a world full of hurt and broken souls, I didn't want to miss any more chances to
celebrate love.
Seven years later, on this Fourteenth Day of February, I am breathing deep, relishing the celebration, and giving thanks for every drop of love He's given me.
Happy Valentine's Day, Dear Friends.
You are loved.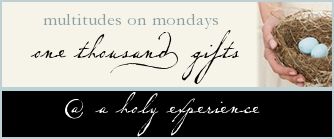 Still counting the endless stream of His love....
#104 Cold winds that make me want to bury my face--but instead I look up and see Him in the clouds.
#105 Creative deliberation paying off, leading to something beautiful
#106 Art project so beautiful that I want to keep going just to see it take shape
#107 Boxes of tea coming home to fill up the empty shelves
#108 Happy little teacups that bring inspiration for a tea party
#109 Tea bag wisdom: "Sipping thoughts of Peace, Hope floats my way."
#110 Early morning arising after sleepless night
#111 First amaryllis blooms laying out horizontal, taking on the color of tangerines
#112 The way peanut butter and apples are so very different and yet so very perfect for each other
#113 Spice cranberry juice in a pink, heart-covered mug
#114 One patch of sunset sky glimpsed through trees and houses
#115 Morning snuggles with Annabelle Cat
#116 Curls that actually curl--making me look like a girl instead of a lion
#117 Annabelle Cat curled up beneath my chair while I pour over soul-food
#118 Tangerine-colored trumpets opening atop the amaryllis to greet the sun
#119 Pink rose petal flecks visible in my teabag
#120 Long leaf shadows on lime-green metal
#121 God's version of a
Happy Light
--sunshine so brilliant I have to turn off every light in the house just to keep from being blinded
#122 Sun-filled photo shoot with Amaryllis the Giant
#123 Driving with the sun roof open in the second week of February
#124 Royal blue sky at dawn
#125
Being named by Him, being named His
#126 Afternoon of sunshine and book reading
#127 Amber tea liquid pouring into glass
#128 Sunlight landing on yarn-blanket the color of Autumn
#129 Perfectly pink cup and saucer
#130 Red heart hovering at the bottom of my tea
#131 Cat sneaking into the closet for the umpteenth time
#132 Waking up slow
#133 Second amaryllis bud growing tall and straight, towering over leaves
#134 Hot shower first thing in the morning
#135 Finding rhythm in a hard song
#136 Eastern horizon glowing beneath a clouded sky
#137 Clouds thinning out, letting the blue filter through
#138 Wind making the tree tips dance in morning light
#139 Freshly vacuumed carpet
#140 Unexpected laughter
#141 Saturday afternoon storm
#142 The sound of hard rain splattering against window glass
#143 Clean laundry, folded and back in place
#144 Bedtime snuggles with Buddy Cat while the heating pad gets hot
#145 Quirky old man driving seafoam-green van, bringing laughter to ordinary day
#146 Three skeins of yarn to finish my blanket--and an 84% discount
#147 Valentine's Day--a day to celebrate love
#148 Memory of tulips showing up on my doorstep, of
love
showing up on my doorstep
#149 Laura--giver of tulips, giver of love
#150 The Lover of My Soul
#151 The way He endlessly pursue me
#152 The way He endlessly pursue us all