Rain rivers slide down glass
Grey clouds settle heavy
And Winter grabs us tight
Shakes our confidence
Reminds us we are small

Some things stay green
Hold firm to branches full of hope
The rest turn sad, broken--
Empty selves waiting for rebirth
But even they know
The last word isn't Winter's
It's His

So we find our feet
Stand straight up and say
Welcome, Winter
Teach us to yearn and strain
For Light and Warmth
And Hope Himself

Yes, new life is coming
But He is already here
And we have much to learn

Welcome, Winter, Welcome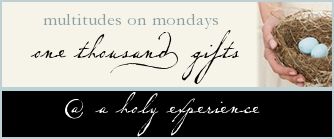 #57 Heater vents that open wide on cold mornings, beginning the day with cozyness
#58 Handmade heating pad nestled in the sheets, making every night a warm one
#59 The sound of strong wing on a rainless night
#60 Cat purring loud while I watch the trees wave fierce
#61 The middle of the night, when the old day is gone and the new one has yet to be born
#62 Hard conversations that make relationships better, truer, stronger--like a workout for love muscles
#63 The chance to say, "I love you. You matter to me."
#64 When the sick kitty finally drinks water, shows signs of recovery, quells fears of loss
#65 Mug of tea cupped in my hands while sharing life with a friend
#66 When you think you can't and He insists that you can--and the moment you finally realize He's right.
#67 Combing through words that don't make sense and somehow finding understanding and even courage
#68 When a friend says that being with me means she can just
breathe
#69 New teas coming home to be tasted and savored and loved
#70 The knowing and seeing that joy doesn't live somewhere out
there
; it's always
here
, right where I am. I just have to open my eyes and
see it
.
#71 The way Winter prepares us to be reborn
#72 The courage to say, "Welcome, Winter"--with hope and faith and
joy
.